Telford & Wrekin Family Group Conference Service (FGC)
Family Group Conferences (FGC)
It's voluntary, it's your meeting, your voice.
If a social worker or other professional has identified that you may benefit from a FGC, then you may find the following information useful. Referrals are only accepted via a children's social care professional. We do not accept self-referrals, however if you have a social worker or early help practitioner currently involved with you and you feel an FGC may help your situation, then feel free to discuss this option with them, and if they feel it would be appropriate, and they can then make the referral.
What is a FGC?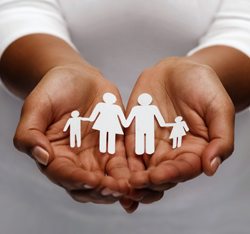 All families have difficulties from time to time, and an FGC is a great opportunity for you and your family to come together to discuss the issues you are facing and plan a way forward for the future, which will help improve your situation. This is your meeting!
What happens at your FGC?
Part 1: Information sharing – Information about the difficulties you are facing will be discussed with you and your family network. You will have the opportunity to ask questions during this part of the meeting, about any help and support which may be available from children's services.
Part 2: Private family time – You and your family will have uninterrupted time to talk things through and put your family plan together.
Part 3: Agreeing your family plan – When your plan is ready, the Facilitator and the social worker / Referrer will re-join you and talk through your plan with you. If your plan shows that you can meet your children's needs and keep them safe, it will be agreed and supported.
The plan you produce will be reviewed at a later date.
Who will work with you?
The Facilitator
They will visit you to tell you about what happens at the FGC and what the focus will be. They will also visit your family members and other professionals who you decide to invite. They will arrange everything for the FGC, which will be held in a venue of your choice and at a date and time that is convenient for you.
The children's Advocate
It is extremely important that the children and young people are involved in the FGC and have a say about how they feel about the situation. The advocate will meet with them before the FGC to discuss this and will then support them at the FGC.